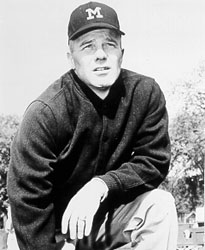 Although 1969 is considered the turning point for the Michigan football program, and understandably so, there was truly not much of a difference in the playing style from Bump to Bo. The real transition was not for Michigan football in 1969 but for the Michigan-Ohio State rivalry.
The transition for Michigan actually happened in 1968 when track and field coach Don Canham was hired as Athletic Director replacing Fritz Crisler after his twenty years of service to the University. If Kipke's weakness had been defending the single wing, then Crisler's weakness was revealed not by him as a coach, but by him as an athletic director in his inability to get consistent TV coverage for games. Although he got started on the right foot by
improving the press box
to then modern standards and having the first game of that season vs. UCLA broadcast nationally. However after that season he failed to follow up on ways of getting people to watch the games on television, and by the mid 60s the only Michigan game that was consistently televised every year was the Michigan-Michigan State game, and normally that was only carried on local Detroit stations.
This eventually became a major problem in Michigan's ability to recruit great players, and although they were able to have some good teams under Bump Eliot, namely the 1964 team that won the Rose Bowl, they had an extremely hard time competing with Woody and Duffy (from MSU) for recruits because these recruits could see MSU and OSU on TV but they couldn't see U of M and the winged helmets in the big house.
Unfortunately that was only one problem in football recruiting at Michigan, the other was more psychological. Fritz Crisler could be a truly fiery coach at times during his heyday in the 40s, the same could not be said for Bennie Oosterbaan his successor. Although at 6'9" he towered over most of his players, he didn't intimidate them and was generally considered a nice guy. Although this might be a good thing for a job interview it became a liability during the fifties in the Big Ten in a time when increasingly it was the nice guys who finished last. Woody Hayes was hired at that school in Columbus in 1951 and in three years had won a national championship. Michigan State had just joined the Big Ten in 1950 and two years later won their only undisputed national championship in football. Two years later they hired Duffy who would later go onto say, "A tie isn't like kissing your sister, it's worse." And most surprisingly there was the sudden emergence of Iowa under Evy who famously shyed away from his mentor Crisler's offensive oriented approach into a more defensive mindset that sent him and the Hawkeyes to two Rose Bowls in three years during the 50s.
Michigan was in need of a coach with personality when Bennie quit in 1958 after ten years as head coach to become the head of Alumni Relations. Bump Eliot had a mediocre season in 1959 with one extremely important win that insured that he would stick around, a 23-14 victory over Woody and Ohio State in the Big House
in film footage here.
Unfortunately this game was not televised, and the Wolverines had a dismal record in rivalry games under Bump going 3-7 against Ohio State and 2-7-1 against Michigan State. When Don Canham came in before the 1968 season things would change, although getting TV coverage for every game would take some time, he did get national coverage of both rivalry games that year. One of these games ended up helping tip the balance of instate recruiting in favor of the Wolverines over the Spartans.
In 1967 we went 4-6 and the average attendance for games at the big house was a pathetic 67,000, the only bright spot we had was a junior running back named Ron Johnson who had just ran for the first 1,000 yard season in school history.
After a loss against Cal to start the season the Wolverines had won three straight but were still unranked going into their matchup with the Spartans in Ann Arbor. The Spartans for their part were undefeated and ranked number 12 in the nation at the time. In this game we showcased the hard powerful running of Ron Johnson who blew through the State defense for 153 yards and a touchdown. That was not one of the three miracles of this game however, the three miracles were:
1.) That it sold out (the Tigers were in the world series at the time and neither football team had a great previous season).
2.) It was nationally televised, the networks could have easily ignored this rivalry which had been so lopsided in favor of Michigan State at the time.
3.) Michigan won.
Michigan would win eight straight before meeting the number two ranked Buckeyes in the infamous 1968 game. If there can be any justification for the pounding that we received in that matchup it is this, Bump's boys had beaten Woody's nuts in 64 and 66 the last two times we had played them in Columbus at the time. For Woody the two point conversion was sending a message to us that the Horseshoe was his turf.
The Ohio State game ended up embarrassing Bump to the point of resignation, contrary to rumors Canham did not fire Bump for being an inconsistent coach, he would later say, "Bump had an 8-2 record my first year as AD, anybody could've lived with that."
This time Canham knew exactly what the football team needed to continue their sudden success, and more importantly fill the stands. They needed a coach with personality along the lines of Woody, Bear, and Joe Pa.
With Woody and Bear firm into their jobs the next best candidate was Joe Pa, whom we actively pursued while he was preparing Penn State for an appearance in the Orange Bowl. The negotiations went nowhere fast. The next person on the list was Evy, many Michigan alum figured the former Michigan player and Iowa coach turned AD felt like he owed something to his alma mater. Evy, who was comfortable in his position with the Hawkeyes at the time, felt no such obligation.
When we finally hired Bo, we were hiring a nobody. He was the coach at Miami(Ohio), who had to have been very upset to see him leave. Not only was he an alumni of the school, he left at a time when the MAC conference had just been guaranteed a spot in a bowl game for the first time (the Citrus Bowl). Miami had finished second in the conference in 68 and was expected to challenge for the title again next year. Without the enigmatic Schembechler at the helm, the Redskins probably felt shorthanded, and for good reason they wouldn't win the conference again until 1973. But their loss was our gain and by that year every Michigan football game was being televised at least locally.
I could go on about what Bo did as a coach and his successes and failures, but i won't because virtually everyone who reads this blog either knows, or can find out for themselves elsewhere in a much more eloquent way than i can put it.
Bump became the associate AD at Michigan in 1969 and received the game ball from the Ohio State game that year from Bo for recruiting all the players who had helped win that game for him. In 1970 Bump took Evy's job as AD at Iowa and after several years of trying, finally hired a great coach in Mr. porno-stache himself, Hayden Fry, who ended the "Big Two and Little Eight" years of the Big Ten by earning a Rose Bowl berth for the Hawks in 1981.
On Bo's style: the type of football that had been played under Bump was quite possibly even more run oriented than Bo's. However seeing that Michigan games weren't on TV under Bump, we all grew up knowing Bo as a running heavy coach. To his credit he did eventually learn how to balance the attack in the late 70s and early 80s, and he knew that the key to have an effective running game was to have a good passing game to keep the opposing team honest.
His first several years we didn't have a good quarterback, but were still able to have success without throwing the ball much. It is quite possible we may see something similar this upcoming season under Rich Rod.
ahhhhhhhhhhhhhhhhhhhhhhhhhh
c-ya