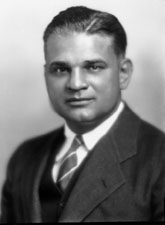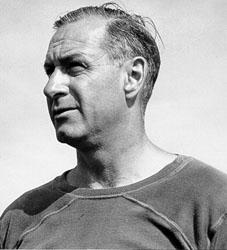 With Rich Rod being the first Michigan football coach from "outside the family" since Bo, i decided to do a historical recap of the two times since the advent of Fielding Yost that Michigan has gone to a football coach from outside of the family, not including Yost of course. I will try to get as much information in as humanly possible.
If you think that posts about history are boring; bite me. Those who fail to understand the past will not have a good future.
In my opinion the transition from Harry Kipke to Fritz Crisler is more similar to the transition happening now than from Bump to Bo. Because at the time we had lost four straight games to the Buckeyes and we were implementing a new offensive system.
Harry Kipke was a former player under Yost from 1921-23, an All-American halfback who won a national championship his senior season. When he took over the Wolverines in 1929 we had just seen our coach at the time Tad Wieman (another one of Yost's former players) bolt after having a losing season in 1928. After a mediocre first season in which players had trouble adjusting to playing in the Big Ten, Kipke won at least a share of four straight Big Ten titles including national championships in 1932 and 1933.
Kipke's system of play was known as,
a punt, a pass, and a prayer.
He also apparently coined the phrase, "A great defense is a great offense." On offense his teams were renowned for their ability to throw the ball, this was largely thanks to their large handed quarterback at the time Harry Newman. At the time this was incredibly remarkable, and not just because of the "taboo" of throwing the football, as Bryan of mgoblog has so eloquently put it, about the pre-modern days of college football. The fact was prior to World War II the ball itself was much rounder in diameter than it is today, making it harder to grasp with one hand let alone throw. At the time throwing the ball consistently required not just a large handed quarterback, but it required the receivers to have large hands as well in order to catch it and come down with it.
The two shortcomings of Kipke became apparent after most of 1933 National Championship team graduated. He was unable to recruit anybody who could throw the ball as well as Newman after that, although he did recruit Tom Harmon (more on that later). The second great shortcoming was Kipke's inability to get his teams to defend against the single-wing offense.
Although nowadays the
single wing
is regarded as an old school running heavy formation in the 1930s single wing was regarded as a "razzle-dazzle" offense in which several programs in the east, including Princeton under Fritz Crisler learned how to have consistent passing attacks who had had undefeated seasons in 1933 and 1935. Interestingly enough, in my opinion, visually it looked a lot like the spread offense, only with four backs instead of four receivers.
The bread and butter play of the single wing was the end-around run. And it was used to perfection by our two main rivals at the time and their enigmatic coaches, Ohio State's Francis Schmidt (who had brought it with him from Texas Christian) and Minnesota's Bernie Bierman. Both of these teams had beaten us four times in a row and it was clear that Michigan needed a change in direction.
When AD Yost hired Crisler, at the time it was one of the biggest coups in the athletic department's history. We had just stolen an established coach from out east from an established program to come to a team that was struggling. What ended up happening was Crisler got a guarantee from Yost that he would take over as AD once Yost retired, a detail that didn't come out into the public till some time later.
Although the team had been really struggling as of late, Crisler saw great potential in three of the then incoming sophomores (freshman were ineligible to play) onto the team, Tom Harmon, Paul Kromer and Forest Evashevski. Harmon and Kromer would become known as the
touchdown twins
the next season. Of course we all know that Harmon later won the Heisman in 1940. Evashevski (or Evy as he was commonly known) was initially recruited to play center, but was switched to quarterback under Crisler a daring move that paid dividends as he went all-Big Ten as a "blocking back" in the single wing system. Later he would become the coach at Iowa and would eventually be a candidate for Michigan's coaching job in 1969 (stay tuned for part 2 for details.)
Although Michigan wouldn't win the Little Brown Jug under Crisler until 1943 when we finally did take the jug back we didn't relinquish it for ten years straight. The winged helmets (which Crisler himself added for the receivers to be distinguished from defenders on passing plays) had much more success against the Buckeyes under Crisler beating them three times in a row in his first three seasons, two of them shutouts IN COLUMBUS. Crisler's coaching career culminated with a win in the 1948 Rose Bowl in the second year in which the Big Ten was guaranteed a spot. Michigan had gone undefeated that year and finished the regular season ranked number two in a very close vote to Notre Dame. When we beat USC
49-0
in Pasadena, the AP took a then unprecedented postseason poll in which Michigan was overwhelmingly voted number one. The Irish, were not pleased with this outcome and made Crisler's boycott of playing Notre Dame from 1943 consensual until 1978.
Crisler became de-facto AD during World War II with Yost beginning to increasingly feel the affects of old age. He was officially hired as AD in 1948 upon his retirement as head coach and stayed there for twenty years, until Don Canham, who would be a big figure in part two.
And what about Kipke? He became a regent of the University before going into business, eventually becoming an executive with Coca-Cola.
ahhhhhhhhhhhhhhhhhhhh
c-ya