Finally a Charles in Charge blog post about making the frozen four. What took me so long? Good question, the details of the answer are still being worked out, but if you email me or send me a message somehow you may receive an answer. But enough of that, let's hear it for the Maize and Blue for making it this far after the media picked them to end up on the bubble to make the tournament in the first place.
Frozen Four preview:
Michigan
How they got there:
After winning the regular season CCHA title and the conference tournament, the wolverines were seen as the team to beat coming in. They are considered the top team in the tournament as a whole, and faced competition that some would say was considerably less than what the other teams faced in the tournament. Nevertheless they won their games against Niagara and Clarkson, gave up one goal in them combined and was led offensively by Kevin Porter's five goals and one assist. The two catalysts for Michigan all year have been Porter, their captain and leading scorer, as well as Billy Sauer their goaltender who has made a remarkable comeback from last year's lackluster performance.
That being said it must be noted that in spite of having these two remarkable players, Michigan is arguably the most complete team in the NCAA this year, and that is remarkable considering they have over ten freshmen on the team this year. They've been able to get offensive production from just about everybody, they're fast, physical and when the going gets tough they get going.
Their Matchup:
Michigan will be playing Notre Dame in the semifinals, a team they swept in mid-January in a regular season CCHA series, in which Notre Dame didn't play at home. The hockey team has underwent numerous changes as well as various ups and downs since then, but at the form they are at right now, they are looking fairly similar to when they played them earlier in the year (albeit without Kevin Quick).
What they need to look out for:
Notre Dame just pulled off two huge upsets in the tournament without their leading scorer Erik Condra who went down with a knee injury before in the CCHA playoffs and will likely miss this game. When they played New Hampshire and Michigan State, the Irish just came out swinging desperately and they started hitting home runs, metaphorically speaking. The biggest problem for Michigan will be to find the right pitch to strike them out.
Notre Dame

How they got here: After finishing fourth in both the CCHA regular season and tournament, the Irish were in the same boat as the Wisconsin Badgers as well as several other teams. They were at the mercy of the tournament selection committee to give them an at large bid. As a four seed they took on the Hockey East regular season champs New Hampshire in Colorado Springs. The Notre Dame team that played in that game was unlike anything anybody could have expected, they played physical, offensively aggressive and it paid off, their fore check was tough and their back check (a traditional strength) didn't give the Wildcats any chances in the third period.
This combined with the strong play of Jordan Pierce in the Michigan State game really catapulted the Fighting Irish into their first Frozen Four appearance, and doing so on the highest note possible. Considering they were really struggling up to this point this is remarkable.
Their matchup:
While Michigan may be the most balanced team, Notre Dame is one of the most defensive minded teams in the CCHA and the NCAA as a whole. Normally their style is not as physical, they mostly depend on good shot blocking and goaltending than necessarily finishing their hits on the back check, but this has changed. Their offense has really been regenerated by Mark Van Guilder and Christian Hanson in the last two games. They filled the gap that Condra left open, and are filling it quite well. It will be interesting to see how Michigan matches up with these two if Condra does not return from the injury.
What they need to look out for:
Michigan's offense is so explosive it's scary, just ask Niagara, who held them scoreless in the first period only to see them break out for five goals in the next two. Needless to say it, Notre Dame will have to really step up their defensive efforts if they are going to beat Michigan.
North Dakota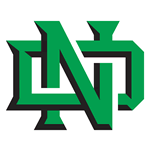 How they got here: After winning the WCHA regular season title they finished third in the conference tournament and garnered a No. 1 seed in the tournament's Midwest regional. After a relatively easy game against Princeton, similar to Michigan's vs. Niagara, the Fighting Sioux had to beat Wisconsin in Madison in front of a hostile 10,000+ crowd. Not only did they do it, they came from behind a two goal deficit in the third period, and they won in overtime on a deflection. Considering that the Badgers weren't even supposed to be in the tournament, they really played their tails off.
North Dakota is going into their fourth straight Frozen Four, and they have never won in the NCAA tournament in that time frame. Along with Michigan they bring to the table one of the most balanced teams in the country, with scoring machines like T.J. Oshie, and last year's Hobey winner Ryan Duncan, who passed up a lucrative chance in the NHL to play his senior season. The Sioux also have JP Lamoureux who could be the only goalie that really gives Kevin Porter a run for the Hobey Baker award this year. Not only that, they're not too shabby defensively either.
Their matchup:
North Dakota will play Boston College in the semi-finals. They played once earlier this year at the beginning of the season to nil-nil draw in Boston that only lasted two periods because the ice surface was beginning to melt as a result of electrical problems in the arena. These two teams are so similar to each other, the only way to tell the difference between them is by their jerseys. They play the same style, they have high powered offenses with good goalies and have the ability to come back when down in a game. You are never sure when playing either of these two teams, which makes a matchup like this extremely hard to predict.
What they need to look out for:
Quick bursts of scoring, bad penalties, special teams in general, and road rage on ice.
Boston College

How they got here:
After a tight regular season in which the Eagles finished fourth in Hockey East in spite of having the best non-conference record in the conference, they really came out and handed it to the Hockey East conference sweeping right on through the Hockey East tournament to add to their hardware that they've won this year (i.e. the Beanpot). They took on the high flying ways of Minnesota in the first round and managed to repel them long enough to get a 5-2 victory. With about three minutes left in the second period against Miami in the second round the Eagles scored three goals in 1:58 against Jeff Zatkoff. They only got three shots off in overtime compared to Miami's seven, but they still won.
Nathan Gerbe was the only player in college hockey this year to overtake Kevin Porter's top spot in Inside College Hockey's Hobey Tracker. Freshman John Muse has played virtually the whole season in goal this year and has been really tough as of late, especially in the clutch.
Their matchup:
As i stated earlier BC and North Dakota are really similar. The only real difference in my opinion is the conference each of them plays in. NoDak plays in the competitive, extremely physical WCHA, where no team is ever counted out until the last week of the season. The Eagles on the other hand play in Hockey East which although just as competitive as the WCHA has more teams that play a more subtle soviet style of play, that emphasizes speed over physical play. Of course BC is one of the few exceptions to that idea and they play extremely hard.
What they need to look out for:
The same things i wrote for North Dakota, these teams are so similar they have the same weaknesses.
ahhhhhhhhhhhhhhhhhhhhhhhhhh
c-ya