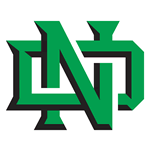 North Dakota
: No Oshie, no Lamorreux, no Ryan Duncan, no problem for the Sioux right?
Wrong. Without those four major stars in the lineup for the men in Grand Forks, hockey season has been a disappointment by their normal standards. Prior to December the Fighting Sioux had not swept a single series, been swept in the season starting Icebreaker by Boston University and UMass. On top of that they had serious problems with every conference team they had played. Prior to a sweep of St. Cloud St at home December 12-13 they had gotten either one or two points in every series for over a month, including a home loss to Alaska-Anchorage, the perennial bottom feeders of the WCHA.
Unfortunately for the Michigan teams in the Great Lakes Invitational, the Sioux might be finding a way out of that slump. They have won four straight games, two on the road against Harvard, somewhat atoning for their poor performance in Boston at the beginning of the season, in addition to the aforementioned sweep of St. Cloud St. However, neither one of these teams is a true power this season. What is apparent, however is that the Sioux will have some confidence to try and carry them through what is expected to be, two tough games.
With the lack of star power the Fighting Sioux have started to spread the puck around more and get as many players on the score sheet as possible. This seems to have worked because they do not have a single player in the top twenty in scoring in the WCHA, but have still managed to have a record above .500, albeit barely at 9-8-1. Whatever travails North Dakota are facing, however, must seem trivial to what are facing their opponents in the semifinal, the Michigan State Spartans.

Michigan State
: The Spartans clearly believed that Jeff Lerg would not fall victim to
Kasey Keller syndrome,
in the sense that he could win games on his own as a goalie. This has not been the case all year, it was most dramatically demonstrated in their most recent home-and-home series against the Michigan Wolverines, in which they got a goal in the first period and their defense proceeded to drop the soap in the second and third periods giving up six goals and more importantly, failing to support Lerg in anyway.
The Spartans are coming into this game on the lowest of lows, not only did they just get swept by their archrivals, they haven't won a game since Halloween. If they want to prove that they are still a capable team in the CCHA this year the GLI could be the shot in the arm the team is looking for, and even if it isn't, they could use it as added incentive to play like more of a nuisance later on in the schedule.
Overall, the MSU-NoDak game looks like it could be one sided, but probably won't be.

Michigan Tech
: The Huskies have had it almost as bad as the Spartans, they have won twice since Halloween, but their problems have been compounded by replacing Rob Nolan at goaltender. Nolan, who put on one of the greatest performances i have ever seen in the GLI last year, has been replaced by Josh Robinson who has had a decent showing especially in the last three games in which he has given up a mere two goals.
The Huskies like the Fighting Sioux might be on their way back up again. This past weekend they swept Northern Michigan in a home and home series in which they gave up a single goal. One problem with that is, Northern Michigan has not been known for scoring goals this season, they have tended to rely more on their defense. Tech knows they will be in for an offensive assault from the Wolverines tomorrow at 3 regardless of the fact that Aaron Palushaj and Matt Rust are playing in the World Junior Championships. They had also better be prepared for a Michigan defense that might be revitalized from the return of Steven Kampfer.

Michigan
: Woo hoo, Kampfer's back and
blonder than ever
. After losing two of their top defensemen, the winged helmets on ice have struggled to find the right combination of blueliners to go with Chris Summers. Scooter Vaughn and Chad Langlais have played admirably in the absence of Kampfer and Mark Mitera, but they have also succumb to fatigue at times due to the lack of depth the injuries have caused. Would they have beaten Miami, Western Michigan, and Wisconsin if one of them had been healthy, maybe, maybe not.
What is true about this team is that they are coming in having won three of their last four, they beat the top ranked Minnesota Golden Gophers at Mariucci Arena and swept their bitter in state rival the Spartans three weeks ago. They have had plenty of rest and are looking to justify their place in the pantheon of the gods of college hockey with or without their leading scorer.
Even without Palushaj and Rust, they still have Louie Caporusso, Carl Hagelin, and Travis Turnbull who scored the tournament winner last year in the dramatic double overtime win against Tech. They have Bryan Hogan, a goalie, who may not be the best, but somehow manages to inspire his teammates to score goals for him, something Billy Sauer seems to be incapable of doing in his senior year.
I expect Michigan vs. Michigan Tech to be a good competitive game with the good guys coming out on top.
ahhhhhhhhhhh
c-ya